Working principle:
Biaxial shredding machine driven by biaxial independent, thus in the production, make the material produces corresponding crushed, to achieve automatic feeding function, the unique structure of knife shaft and the rotary cutting tool, in the process of production of low speed high torque, won't appear the phenomenon of winding shaft, or stuck equipment, so as to improve the production efficiency, the equipment is suitable for crushing all kinds of toughness and high viscosity material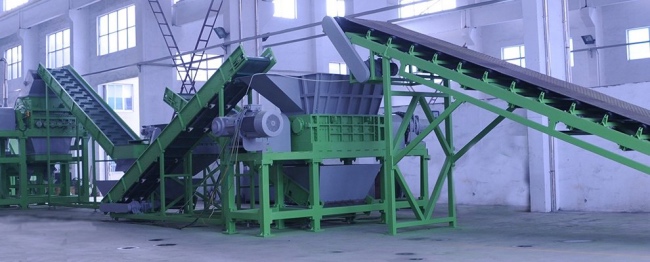 Product features:
1. The two-shaft shredder features low speed, high torque and low noise. PLC control system can be used for automatic control.
2. Motor + reducer drives the cutter shaft to achieve the shearing effect of low speed and high torque.
3. The bearing is sealed six times, effectively waterproof and dustproof, and extends the service life of the bearing.
4. After tool wear, the tool welding repair technology is adopted to realize repeated use of the tool, greatly reducing the maintenance cost of the tool.
5. Detachable box design, which can easily and quickly remove the whole cutter shaft (shaft, blade, bearing, sealing system).
6. The cutter is arranged in spiral line to realize efficient cutting.
7. Hexagonal design is adopted for both the inner hole and the spindle surface of the cutter to achieve the uniformity of the force on the cutter.
8. Different types of knives can be selected according to different materials and product shapes to be shredded.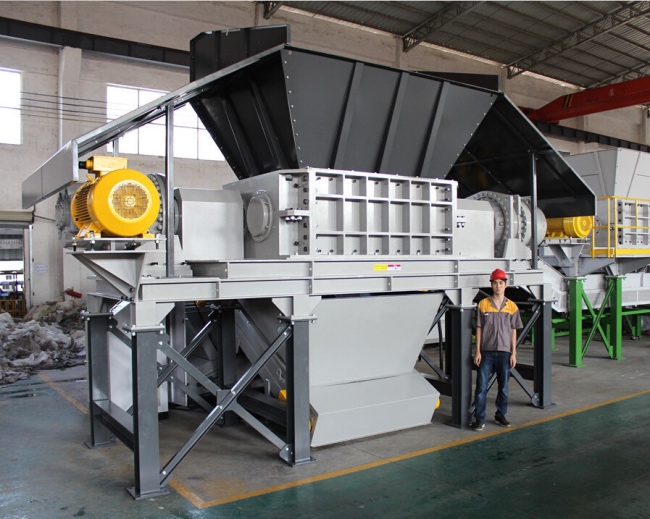 Technical parameters
| | | | | | | | |
| --- | --- | --- | --- | --- | --- | --- | --- |
| Model | Oversize (mm) | Shredding room size(mm) | Blades (mm) | Blades thickness (mm) | Blades quantity | Motor power (kw) | weight(kg) |
| SZ-600 | 2800×1300×1850 | 600×480 | 200 | 20 | 24 | 11×2 | 2200 |
| SZ-800 | 3000×1300×1850 | 800×480 | 200 | 20 | 40 | 15×2 | 2500 |
| SZ-1000 | 3300×1900×2200 | 1000×690 | 300 | 40 | 24 | 22×2 | 5200 |
| SZ-1200 | 3600×2000×2200 | 1200×690 | 300 | 40 | 30 | 30×2 | 6400 |
| SZ-1500 | 4180×2100×2400 | 1500×850 | 550 | 50/75 | 30/20 | 55×2 | 9000 |
| SZ-1800 | 5800×2400×3300 | 1800×1206 | 550 | 50/75 | 36/24 | 75×2 | 13600 |
| SZ-2000 | 6400×2700×3500 | 2000×1490 | 600 | 50/75 | 40/26 | 90×2 | 20100 |
| SZ-2500 | 7500×3200×3800 | 2500×1800 | 600 | 75/100 | 32/24 | 110×2 | 25000 |
| SZ-3000 | 8600×3500×4000 | 3000×1800 | 600 | 75/100 | 40/30 | 160×2 | 31000 |
INQUIRY
If you have any question or comment, please contact us without hesitation. We will reply you as soon as possible.(
*
is required information)
* Your email:
Company Name: