Process flow:
The whole scrap crusher production line is composed of feed conveyor -- main machine -- vibration feeder -- discharge conveyor -- magnetic separator -- iron conveyor -- impurity conveyor -- dust remover -- PLC control cabinet. The crushed materials from the scrap crusher are separated from the iron and non-ferrous metals and non-metallic materials by a vibrating feeder, a belt conveyor and a magnetic separation system, and are sent to the pile by their respective conveyors. Nonferrous and nonmetallic materials will be searched by magnetic separation equipment again on the conveyor to pick out free iron and metal materials, so as to improve the recovery rate of iron and metal materials, and at the same time through the eddy current separator sorting nonferrous metals, can improve the recovery efficiency. The whole broken line is controlled by PLC, which can realize microcomputer control and manual operation.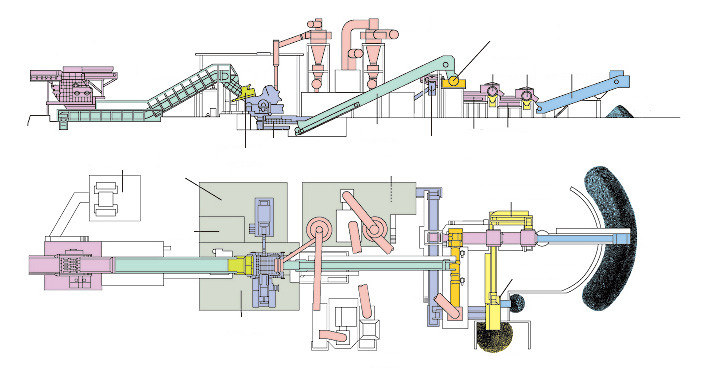 machine photo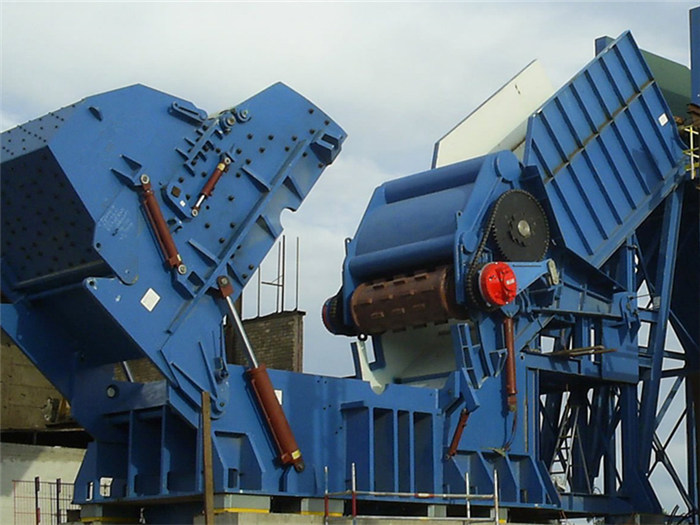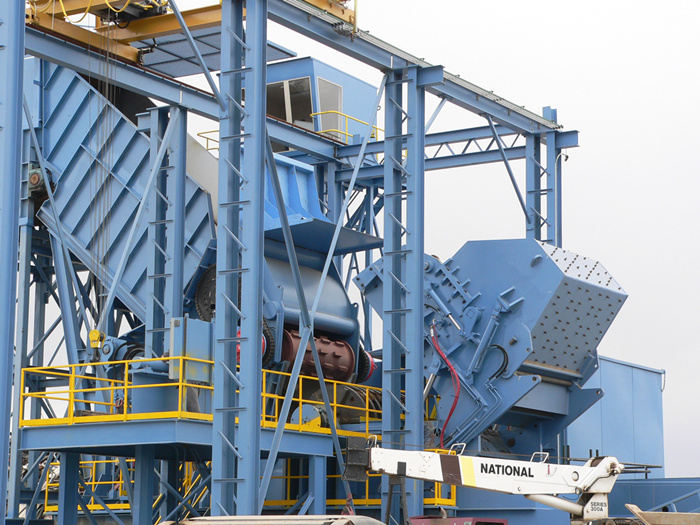 Supporting equipment:
The main equipment of scrap crushing line includes: chain plate feeding conveyor, scrap crusher host machine, hydraulic feeding device, vibrating feeder, belt type discharging conveyor, suction type magnetic separator, discharging conveyor, iron remover, rotary conveyor, etc.
Supporting systems include: electrical control system, dust removal system, sprinkler system, hydraulic system, television monitoring system and the above equipment, systems required between the wire, hydraulic and sprinkler pipeline.
customer work site

Product features:
1. Ultra-high crushing efficiency
Using hydraulic feed, swing hammer and ring hammer combined crushing hammer head, the efficiency of other crusher equipment increased by 5%-15%.
2. Perfect finished particles
Adopt special roller rolling process, remove paint and other dirt, form high density pellet material, improve the grade of broken material.
3. Stable operation capability
Set the safety door. After the non-breakable material enters the crushing chamber, the operator can open the safety door and discharge it out of the machine to avoid damage to the crusher.
4. Intelligent control system
PLC control system and hydraulic power system, intelligent production time and labor saving, to achieve a full set of production lines stable, automatic, safe operation.
INQUIRY
If you have any question or comment, please contact us without hesitation. We will reply you as soon as possible.(
*
is required information)
* Your email:
Company Name: